100+ Engraving Ideas: What to Engrave on Memorial Jewelry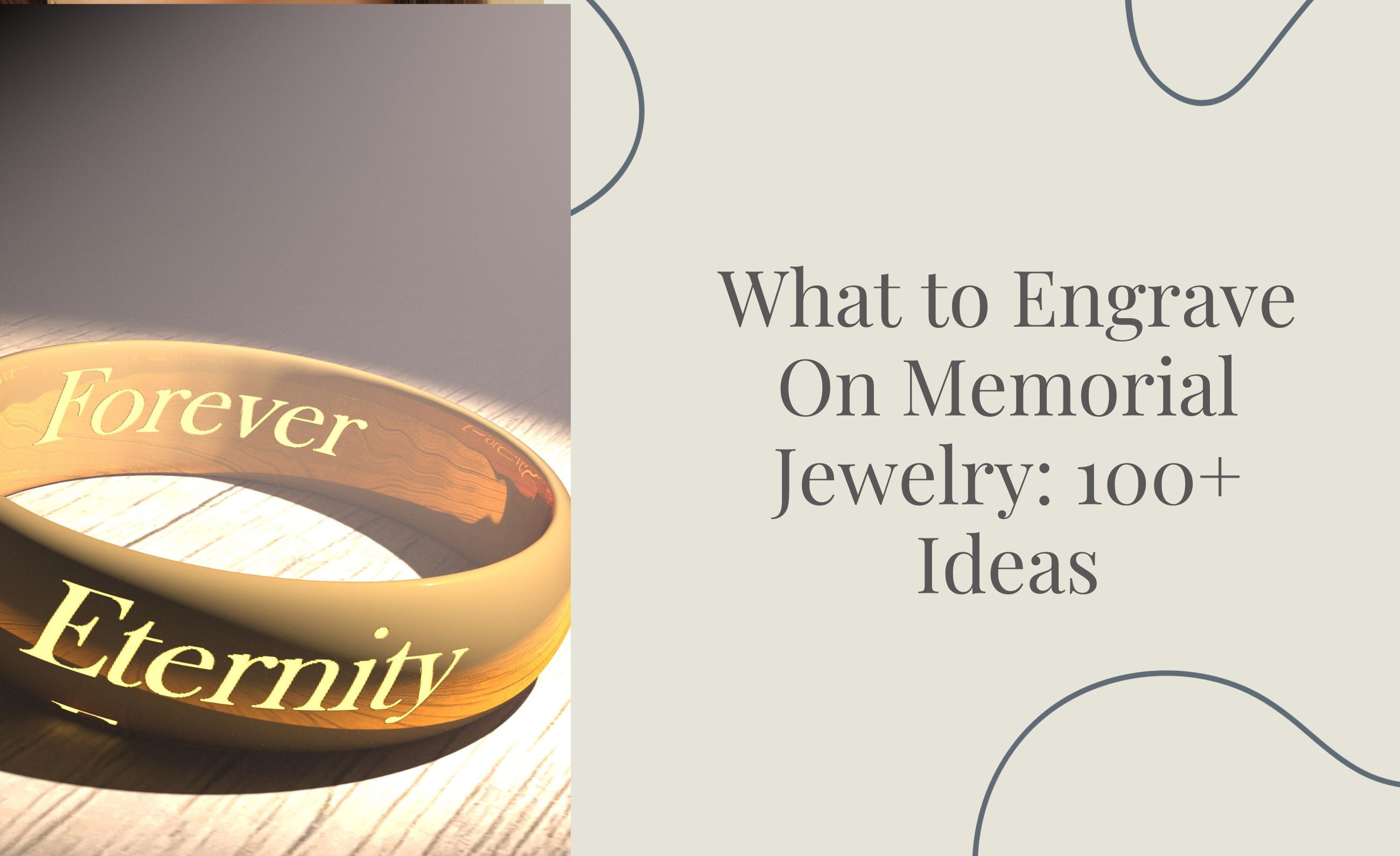 Finding the perfect phrase for personalized jewelry and gifts 
Selecting the perfect engraving for memorial jewelry can be an emotional and difficult task.
When looking for engraving ideas for keepsake necklaces or other memorial jewelry, you want the message to perfectly capture your loved one's spirit, your relationship with them, or the depth of your loss. With so many options, it's easy to feel overwhelmed.
Engraving memorial jewelry is extremely personal. Default platitudes don't always ring true. You want the engraving to feel meaningful and specific to your exact situation.
Rushing the decision could lead to regret over a less-than-ideal permanent inscription on your cherished keepsake.
This comprehensive guide to engraving ideas for memorial jewelry takes the guesswork out of the process.
With over 100 touching, inspirational, and thoughtful engraving suggestions, you'll discover the perfect sentiment to engrave on your necklace or other memorial keepsake.
From well known sayings to inspirational phrases and everything in between, you'll find unique, personalized engraving inspiration.
Tips for drafting a unique and special message 
The process of customizing engraved jewelry begins with drafting the perfect inscription.
When choosing words to inscribe on a piece of memorial jewelry, reflect deeply on the individual and relationship being honored. Think about their personality, quirks, favorite phrases, and impact on your life.
Jot down descriptive words and heartfelt sentiments that capture the essence of the bond. Select something authentic over generic platitudes. 
Opt for present tense rather than past tense verbs and phrases. Keep the message concise but impactful.
Prioritize emotions and expressions of love over facts. Customize with your loved one's name, dates, or place names as desired. With an intentional, personal message, your engraved jewelry will become a truly special keepsake.
Draw inspiration from personal memories 
One of the best sources of inspiration for engraved jewelry is your own cherished memories with your loved one. Think about special moments, inside jokes, or meaningful events you shared.
Reflect on their unique personality, quirks, interests, and values. Consider incorporating a favorite phrase they often used or an expression of their outlook on life.
For example, engraving "Seize the day" captures the spirit of an adventurous free spirit, while "Home is where the heart is" suits a family-oriented homebody.
Make it even more personal by including a significant date, location, or activity you enjoyed together. The goal is to create an inscription that feels like it came straight from their heart to yours.
This will make your jewelry piece feel so much more meaningful and special than any generic message.
By customizing the engraving with details and memories close to your heart, you can keep your loved one's spirit with you always.
Inspirational Engraving Ideas
Connecting with simplicity: Short yet touching phrases 
Memorial jewelry often uses short phrases and single meaningful words to inspire reflection. Though simple, these brief messages carry deep significance.
Phrases like "Always in my heart" and "With you always" express lasting love and the comforting feeling that loved ones remain by your side in spirit.
Shared sayings like "You've got this" remind you of the encouragement they once provided.
Favorite nicknames like "Hubby" or "My star" represents an inner knowing.
Brief sentiments without the person's name like "My angel" and "I love you" speak to the universality of grief.
These short but touching engraving ideas connect in a deep way.
The echo of their laughter: Using inside jokes and personal phrases
Humorous inside moments shared only between you and your loved one hold special meaning that can be re-captured through memorial jewelry engraving.
An inside joke about a favorite movie or food evokes nostalgia for fun times spent together. Quoting a silly nickname revives the memory of laughter and joy.
Phrases referring to traditions like Sunday pancakes or up-for-anything adventures showcase personality. Song lyrics that you bellowed together will now spark bittersweet reminiscence.
Spoken mannerisms like "Easy squeezy" become tender mementos from a silly saying they once repeated. Though personal, these authentic engraving ideas will feel meaningful and prompt a smile when remembered.
Timeless phrases that serve as a reminder 
Some memorial jewelry engraving ideas have become classic sentiments to memorialize a loved one. Phrases like:
"Forever in my heart" eloquently conveys eternal love.
"Always on my mind" expresses how someone is unforgettable.
"Gone but not forgotten" affirms that wonderful memories live on.
"In loving memory" recognizes a cherished life. 
"Until we meet again" carries the promise of someday reuniting in spirit.
"Loved beyond words" acknowledges a bond so deep it transcends language.
An engraved item with one of these timeless phrases memorialize your friend or loved one in a simple yet beautiful way.
Iconic Symbols and Their Meanings: A way to keep their memory alive
Heart to heart: Symbols that signify love and connection In addition to phrases, memorial jewelry often incorporates symbols that represent love and connection. The heart motif is a classics symbol of adoration that visually reinforces loving words in an engraving. Two intertwined hearts evoke the unbreakable bond between two people. 
The infinity symbol depicts a love that continues forever.
An engraved wing can signify the protective, angelic love of someone who has passed.
Trees represent the cycle of life and ongoing personal growth inspired by loved ones.
Flowers signify the promise of renewal and hope. Symbols on memorial jewelry enhance the meaning and provide additional visual remembrance.
Peaceful doves: Understanding the symbolism of different birds Birds often carry poignant symbolism related to memorial jewelry. White doves portray peace and lift the spirit toward a happier place. 
Elegant swans represent devotion, loyalty, and faithfulness.
Lively hummingbirds depict joy, lightness, and resurrection.
Soaring eagles inspire courage, strength, wisdom, and determination.
Songbirds such as robins connote cheer, new beginnings, and a sunny outlook.
Wise owls signify guidance, intuition, and connection to the afterlife. Birds as symbols add layers of uplifting meaning to memorial jewelry engravings. Their flight upholds the spirit at tough times.
Spiritual touch: Incorporating religious symbols with a personal touch For many, faith provides comfort during grief. Adding spiritual or religious symbols to memorial jewelry can recognize a divine connection at a difficult time. 
A cross or praying hands represent seeking peace and strength from a higher power.
Meaningful selections like a Star of David, lotus, or yin-yang emblem tie to specific belief systems.
Angels signify ascension to heaven and ongoing protection.
Quoting a short, uplifting verse from a holy text provides encouragement. For a personal touch, reference favorite teachings, rituals, or places of worship. Incorporating faith-based symbols and phrases brings light to the grieving process.
100+ Ideas for Memorial Jewelry: Inspiration for Engraving Custom Jewelry
Messages of Love and Remembrance

"Forever in My Heart"
"Loved and Remembered"
"Your Memory Lives On"
"Wish You Were Here"
"Missing You Always"
"Love Never Fades"
"You Are Unforgettable"
"Loving You Still"
Honoring Your Loved One's Spirit
"Your spirit lives on"
"In remembrance of you"
"Your light shines bright"
"Cherished memories"
"My guiding star"
"Keeping you close"
"Together in spirit"
"You are my sunshine"
"I honor your life"
Reuniting Again - A Sweet Reminder of Life to Come
"Until We Meet Again"
"See You on the Other Side"
"Reunited in Heaven One Day"
"Until Our Next Adventure..."
"Together Again in Paradise"
"Our Next Chapter Awaits"
"I'll Find You in the Stars"
"We'll Laugh Again Under Sunny Skies"
"The Best Reunion Awaits Us"
"Our Journey is Just Beginning"
"Your Next Hug Awaits"
"Save My Seat Up There"
"Bound by Love, No Forever Goodbye"
"A Future Reunion to Look Forward To"
In Heaven/At Peace Quotes
"Our angel above"
"My angel forever"
"Your wings were ready"
"At peace with God now"
"Safe in heaven's arms"
"Your soul at rest"
"Free from earthly pain"
"Dancing amongst the stars"
"Peaceful dream eternal"
"In God's loving embrace"
"Reunited with loved ones"
"Everlasting paradise"
"Heaven welcomed you"
"At home with the Lord"
"Saved by amazing grace"
Reminders of Their Ongoing Presence

"Your love surrounds me"
"Gone yet not forgotten"
"Fondly remembering you"
"Love for eternity"
"Memories give me strength"
"Carrying your light"
"In my thoughts always"
"Guardian angel always"
Engravable Legacy and Meaning Quotes
"The memory of your smile"
"You shaped who I am"
"My truest friend"
"Teacher and guide"
"Your laugh lives on"
"My heart's North Star"
Remembering Mom or Dad
"Loving Mother, Forever Missed"
"The Best Dad in the World"
"Mom, My Guardian Angel"
"In Memory of My Dad"
"Your Guiding Hand on My Shoulder"
"Daddy's Little Girl, Forever"
"Mama, My Heart Remembers You"
"An Extraordinary Mother's Love"
"Cherished Memories of My Father"
Engraving Phrases For a Brother
"Brother, Always With Me"
"Forever My Brother"
"Bro's Bond Eternal"
"Guardian Brother"
"Brother's Guiding Light"
"Remembering My Bro"
"Brother's Love Endures"
"Brother in Spirit"
"Eternal Brotherly Love"
"In Memory of My Brother"
Engraved Memorial Quotes For a Sister
"Sister, Forever Near"
"Always My Sister"
"Sis, Never Forgotten"
"Guardian Sister"
"Sister's Loving Light"
"Remembering My Sis"
"Sisterly Love Beyond"
"Sister in Spirit"
"Eternal Sisterly Bond"
"In Memory of My Sister"
Phrases In Memory of a Child
"Forever Our Angel"
"Love Never Ends"
"Our Star Above"
"Always Our Baby"
"Eternally Loved"
"Gone Too Soon"
"In Our Hearts Forever"
"Heaven's Littlest Angel"
"Brief Moments, Eternal Love"
"Precious Child, Forever Missed"
Final Thoughts
Finding the perfect inscription to engrave on memorial jewelry can feel like a daunting task. But taking the time to reflect on special memories, gather inspiration, and craft a meaningful message will make your keepsake even more special.
Engraving personalized sentiments transforms jewelry into a cherished daily reminder of love. Whether you choose a longer quote or brief phrase, the right words engraved on a necklace, ring, or bracelet keep your loved one's spirit close.
I hope this comprehensive collection of touching, inspirational engraving ideas spark creativity for your memorial jewelry. With so many options, you're sure to find the ideal inscription to honor your unique relationship and the memory of someone who touched your heart and life.
Keep their love with you always by customizing a memorial keepsake with an engraved message straight from your heart to theirs.