Putting Ashes In a Necklace - A Step by Step Guide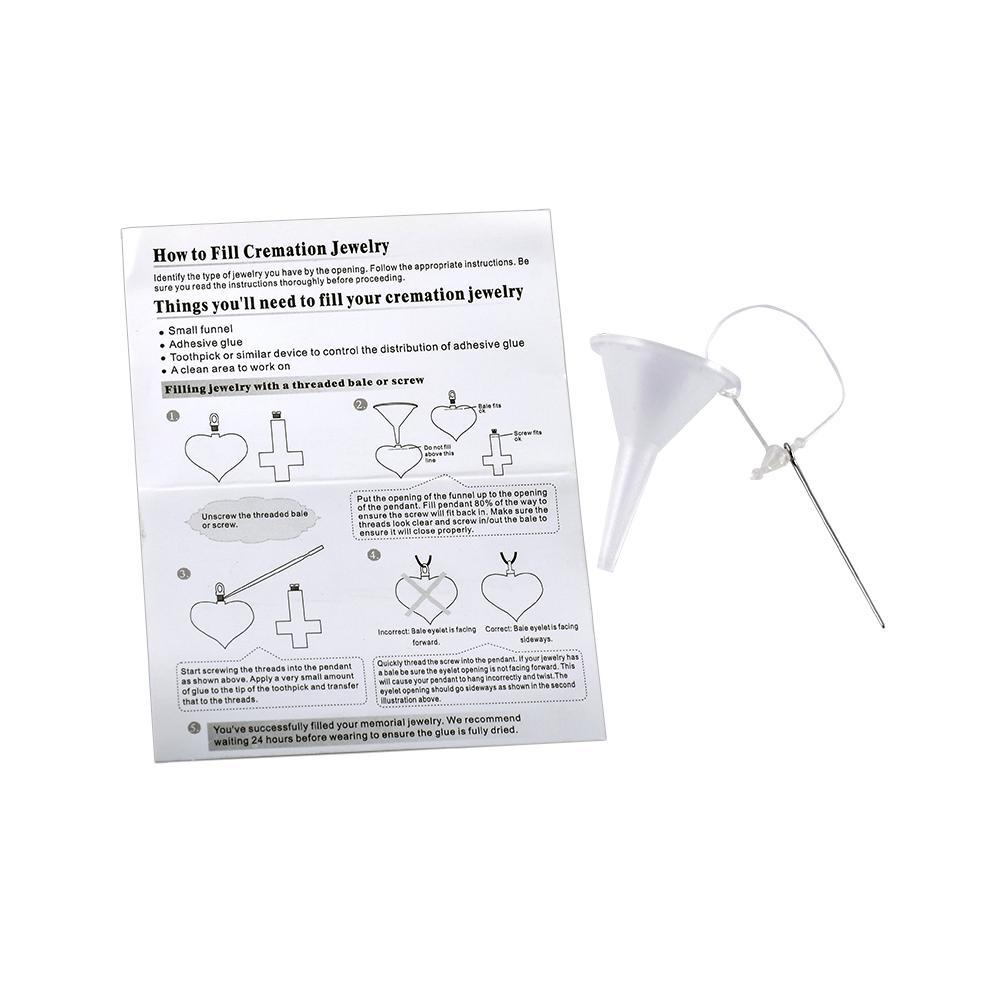 Losing a loved one is the most difficult things we'll ever go through. One way to keep them close to your heart every day is with Sarah & Essie cremation jewelry. However, you may be wondering if putting ashes in a necklace is hard to do.
Rest assured, with a few simple steps, you can have your pendant filled and ready to wear.
In this blog post, we will walk you through the process of filling cremation jewelry. We will provide tips and advice on how to select the right ashes for your jewelry and how to fill it securely.
A couple of tips before you begin:
* Fill your jewelry over a piece of paper or a paper towel. Should any ash fall from your funnel, you'll be able to use the paper to transfer the ashes back into your main urn.
* Have a funnel, pick or small spoon and glue handy. At Sarah & Essie, we provide a filling kit and instructions with every order. Have these items at hand and ready to use.
How to fill your cremation jewelry:
1.) Look over the ashes. While this may seem like an odd step, it is important to choose ashes that will fit comfortably inside your jewelry.
The best ashes will be very fine - powdery and/or sand-like - and you'll want to ensure there are no large pieces remaining in the ashes.
If there are any larger fragments, you can use a small spoon or pick to remove them and place them back into your larger urn or container.
Once you've selected the right ashes, it's time to begin filling your jewelry.
2.) Carefully remove the bail or screw on your jewelry. Your pendant will have one of two types of closures: a bail/loop at the top of the pendant that unscrews to reveal the space for ashes or a small screw (usually located in the back or bottom of the pendant) that will need to be removed.
If you've purchased an urn necklace for ashes from us, we will include a mini screwdriver if your pendant requires one for removing the screw.
3.) If you are using a funnel, place the tip of the funnel into the opening of your urn necklace and put a small bit of ashes into the funnel. If you are not using a funnel, pour ashes into jewelry one tiny bit at a time. You can use a pick or needle for this purpose.
Only fill the opening to about 80% capacity. This will help keep the ashes in place and also make it a little easier to screw the top back on. Use the pick included with your filling kit to gently push the ashes into the pendant cavity.
Take great care to avoid spilling ashes. If you do spill any, you can pick up the piece of paper or towel you're working on and transfer them back into the main urn once you've completed filling your cremation pendant.
4.) Once all of the ashes are inside, take your pick or a q-tip and gently swab at the inner and outer threading of the pendant until it is clean.
Replace the screw or bail (depending on your closure), making sure it is tightly screwed in place. You want to ensure that you are able to securely close the pendant before permanently sealing it with glue.
5.) If you encounter resistance when trying to replace the screw/bail, unscrew it completely and use a q-tip or the included pick to gently swab at the inner and outer threading of the pendant. Even a small bit of ash on the threads can make the pendant difficult to close.
6.) Once you've ensured that you can securely reattach the bail or screw, apply a small amount of glue to the closure and reattach as follows.
We recommend jewelry glue or super glue for this step. Only a tiny amount is needed, so don't overdo it! A small dab on the tip of the filling kit pick is all you need.
With the pendant partially closed, apply a drop of glue to the exposed threads in a couple of places.
Working quickly, reclose the pendant. If your pendant has a bail/loop at the top, be sure to align the loop so that the inside of the loop faces the side of the pendant. This will allow your necklace chain to go through and the pendant to sit comfortably on your neck.
Allow the pendant to dry completely before wearing. We recommend waiting 24 hours.
When wearing your urn necklace, please keep in mind that we don't recommend wearing your jewelry while swimming, bathing or exercising. Even with a permanent seal, exposing the necklace to water or sweat may weaken the adhesion and risk losing the pendant and precious contents. 
We hope this article about putting ashes in a necklace has been helpful. If you have any questions about this process, please don't hesitate to reach out to us.